Patient Safety Awareness Week: Annual Reminder to Advance Quality Healthcare Initiatives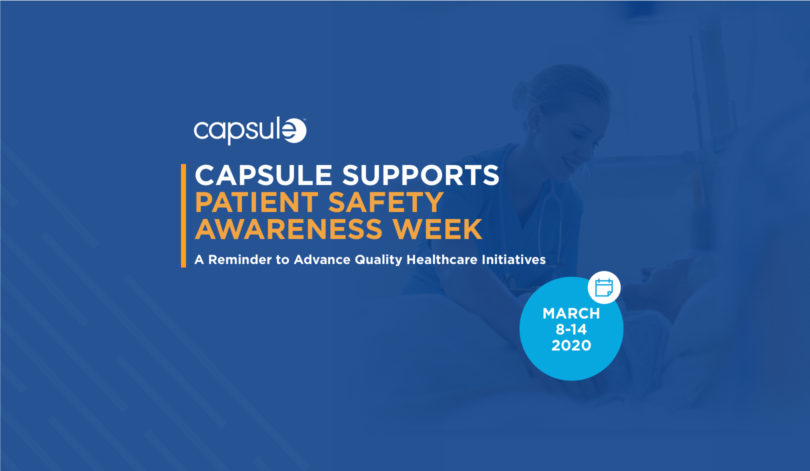 Patient Safety Awareness Week, an annual event of the Institute for Healthcare Improvement, will take place from March 8-14, 2020. The event is a reminder for healthcare providers to dedicate themselves to patient safety and security on a daily basis. Additionally, the occasion encourages individuals in all areas of healthcare to learn more about what goes into quality assistance and treatment.
Ultimately, Patient Safety Awareness Week provides a platform for expanding awareness about the latest patient safety advancements and recognizes the progress of providers. Health organizations are working around the clock developing streamlined approaches to monitoring patients and delivering care, and these innovations provide patients with added comfort, care, and safety.
Capsule supports healthcare providers in their efforts to improve patient care by producing medical data technologies for device integration, vital signs monitoring, and clinical surveillance that helps make the complex simple and the simple insightful.
Related Reading: A New Standard in Patient Safety: Automated Bedside Monitoring
Why Focus on Safety?
The medical community has made considerable strides in the quality of care over the last decade, as efforts to improve patient safety have reduced hospital-acquired conditions by 17%.[1] Technology is playing a defining role in patient care, helping to guide treatment plans and improve outcomes. Despite these advancements, medical harm continues to be a leading cause of death worldwide.
The World Health Organization (WHO) estimates that 134 million adverse events occur each year due to unsafe care in hospitals in low-and middle-income countries, resulting in nearly 2.6 million deaths.[2] Additionally, nearly 40% of patients experience harm in ambulatory and primary care settings with an estimated 80% of these harms being preventable, according to WHO.[3]
In an effort to improve the overall patient experience, organizations are working towards streamlining bedside monitoring. This welcomed technological advancement is intended to further humanize the caregiving experience, simplifying how data is accessed across bedside devices so that care providers have more one-to-one time with their patients, creating more personalized treatment plans and increasing overall patient satisfaction.
Barriers to Quality Care
In recent years, hospitals have devoted significant resources to implementing state-of-the-art information systems with powerful clinical capabilities. However, there are numerous shortcomings that have prevented data from being fully leveraged and utilized within the care continuum:
Lack of Data Standards
The fragmented medical device landscape is comprised of numerous device types, brands, and versions. Medical device manufacturers have not uniformly coalesced around a single data standard, and the same holds true for connectivity. Proprietary data formats and inconsistent protocols limit, or prevent, devices from communicating information to enterprise IT systems. The result is device data that cannot be aggregated in any meaningful way of sharing.
Data Silos
Many bedside devices have yet to be made "connected", and their data remains siloed in the department and often in the devices themselves. Unless manually transcribed into a system such as an EMR, the value of much device data is lost. When it is transcribed, the process typically takes place retrospectively, eliminating any real-time value to proactively drive treatment decisions.
Many healthcare facilities are looking to not only send the data to their EMR, but to other clinical and analytic solutions to innovate around mobile and more intelligent workflows. The ability to supply this data to not just one, but to multiple systems simultaneously and directly in the format that is required by that system helps break down the silos of data and provides critical and timely information for decision making where and when the clinician needs it.
Building a Streamlined Solution
Moving forward, hospitals must anticipate and think holistically about their medical device integration strategies: the need to expand to all device types, communicate to a variety of downstream systems, and fully utilize the data in new and innovative ways. In order to accomplish all this, a medical device integration solution must evolve to derive maximum value from device information.
Related Reading: Streamlining Vitals Technology: The Future of Bedside Care
To assist with this conundrum, Capsule Technologies has developed a data platform to increase visibility and knowledge of hospital patients and equip providers with the insight needed to make informed and timely decisions.
Our Medical Device Information Platform — comprised of device integration, vital signs monitoring, and clinical surveillance solutions — captures streaming clinical data from connected systems and transforms it into context-rich information for clinical documentation, alarm management, patient surveillance, decision support, predictive analytics, clinical research and more.
Easier access to real-time data improves communication and collaboration between care teams, simplifies and standardizes workflow, and gives caregivers more time to spend with patients. Here is a breakdown of Capsule's solutions:
Medical Device Integration
Capsule's Medical Device Integration (MDI) solution combines health data from any medical device or clinical system. The smart integration contextualizes all available data and transforms it into visible, actionable, predictive insight wherever it is needed. Unlocking the power of data to improve patient and financial outcomes, enhance research, refine protocols, streamline resources, MDI helps providers deliver precisely the right care at the right time.
Clinical Surveillance
Capsule's real-time clinical surveillance solution gives care teams contextual information on a patient's condition that can facilitate early intervention, improve patient safety and enable better clinical outcomes. Surveillance increases visibility into patient statuses and trends, heighten situational awareness, and provide actionable insights to help clinicians make informed decisions quickly. Clinicians can make timely assessments and react using your own customized protocols, based on predictive analytics.
Patient Monitoring
Capsule's patient monitoring devices enable data-driven insights across the care continuum. In the hospital, clinicians can spend more time with their patients instead of in the EMR, when using Capsule Vitals Plus. Patient care is improved with fewer charting errors, more timely charting and more modifiers and custom fields to document the patient status more completely.
Each solution of the platform helps health organizations capture and deliver data in real-time, increasing visibility and knowledge of patients. Conclusively, Capsule's Medical Device Information Platform improves communication and collaboration between care teams while and standardizing workflow.
A Future of Superior Patient Care
Patient Safety Awareness Week shines a spotlight on the inherent risks involved in health care and the need for safety to be a core value of healthcare organizations. The need for better ways to understand how safe care is, or could be, has taken on global significance because health systems throughout the world are often grappling with similar challenges.
Capsule is committed to providing a streamlined approach to care with a comprehensive system that considers the clinical workflow and technology complexities at each step of the care process — collection, communication, and application of data. Providers can harness the true power of device data to analyze and act on it in terms of patient safety and care — ultimately making this complex data connectivity issue to be used by hospitals daily while providing insightful insights on the well-being of patients.
To learn more about how Capsule's Medical Device Information Platform can grow with the needs of your organization, request a demo today.
[1] https://www.ajmc.com/newsroom/patient-safety-improvements-save-87000-lives-and-20-billion
[2] https://www.who.int/campaigns/world-patient-safety-day/2019
[3] Slawomirski L, Auraaen A, Klazinga N. The Economics of Patient Safety in Primary and Ambulatory Care: Flying blind. Paris: OECD; 2018 (http://www.oecd.org/health/health-systems/The-Economics-of-Patient-Safety-in-Primary-and-Ambulatory-Care-April2018.pdf, accessed 9 March 2020)